FIFA reserves at $4BN after World Cup; more to come in 2026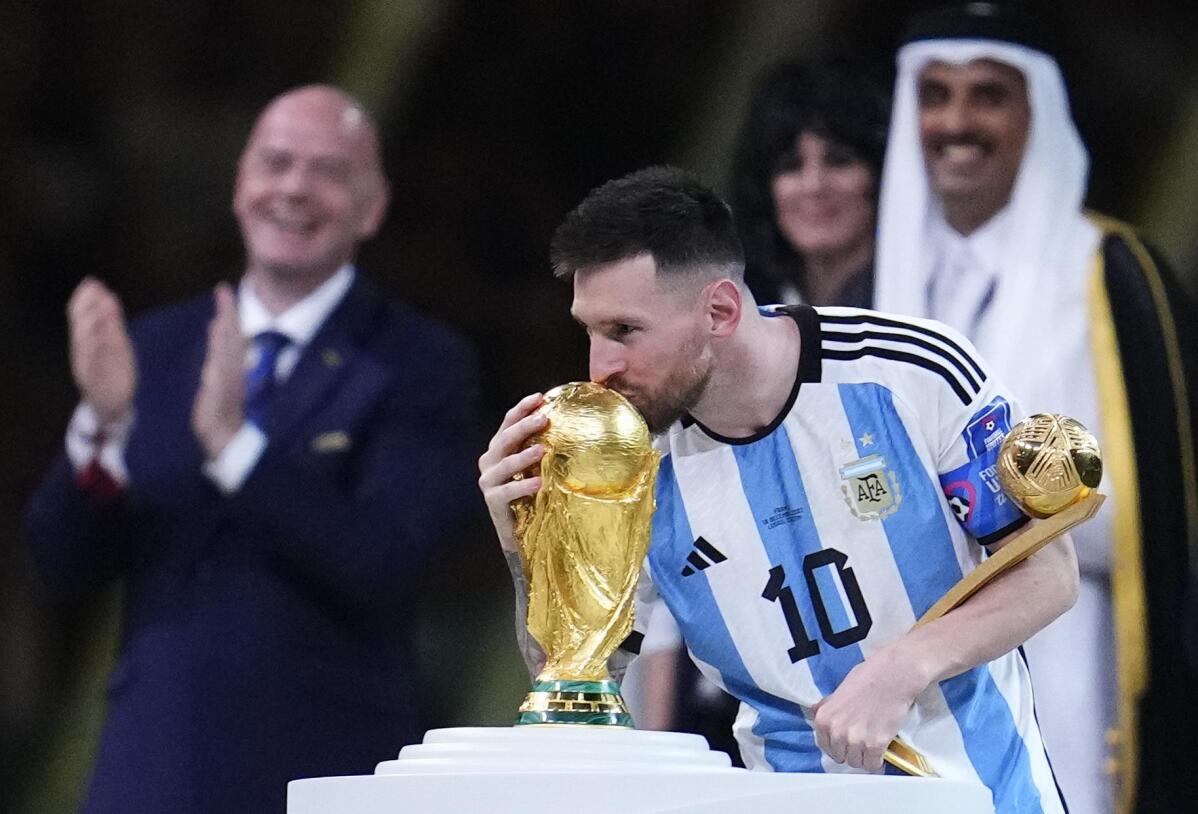 1 of 2

|
Lionel Messi, de la selección de Argentina, besa la Copa del Mundo y sostiene el trofeo al mejor jugador de ésta, el 18 de diciembre de 2022, en Lusail, Qatar (AP Foto/Natacha Pisarenko)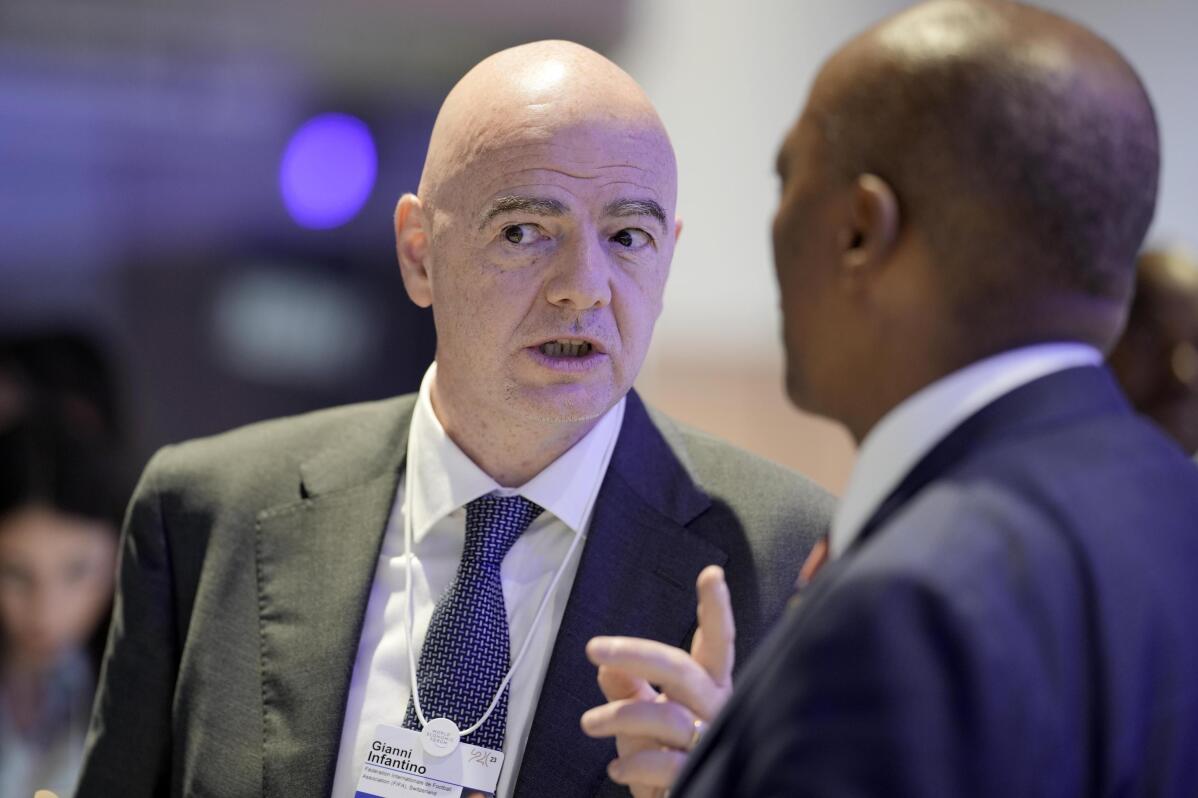 2 of 2

|
FIFA President Gianni Infantino, left, talks with South African mining businessman Patrice Motsepe, right, at the World Economic Forum in Davos, Switzerland, on Wednesday, Jan. 18, 2023. The annual meeting of the World Economic Forum is taking place in Davos from Jan. 16 until Jan. 20, 2023. (AP Photo/Markus Schreiber)
FIFA reserves at $4BN after World Cup; more to come in 2026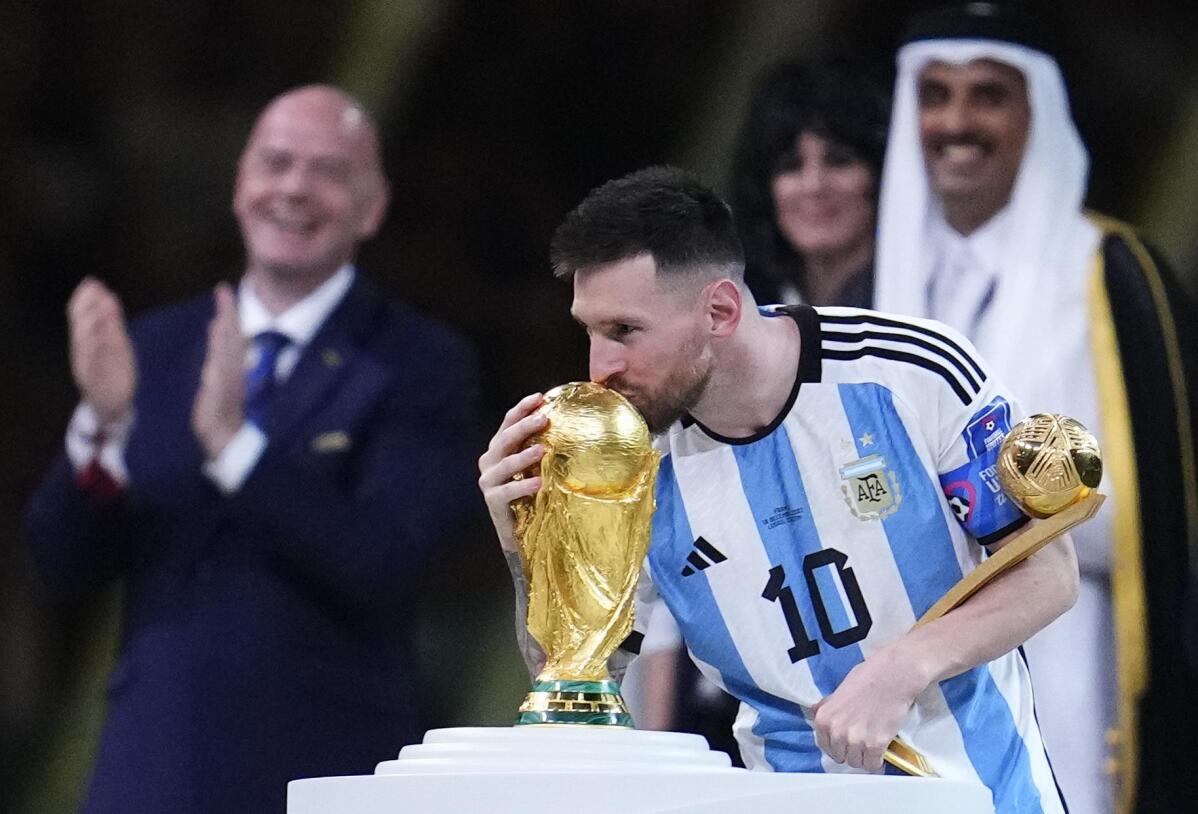 1 of 2

|
Lionel Messi, de la selección de Argentina, besa la Copa del Mundo y sostiene el trofeo al mejor jugador de ésta, el 18 de diciembre de 2022, en Lusail, Qatar (AP Foto/Natacha Pisarenko)
1 of 2
Lionel Messi, de la selección de Argentina, besa la Copa del Mundo y sostiene el trofeo al mejor jugador de ésta, el 18 de diciembre de 2022, en Lusail, Qatar (AP Foto/Natacha Pisarenko)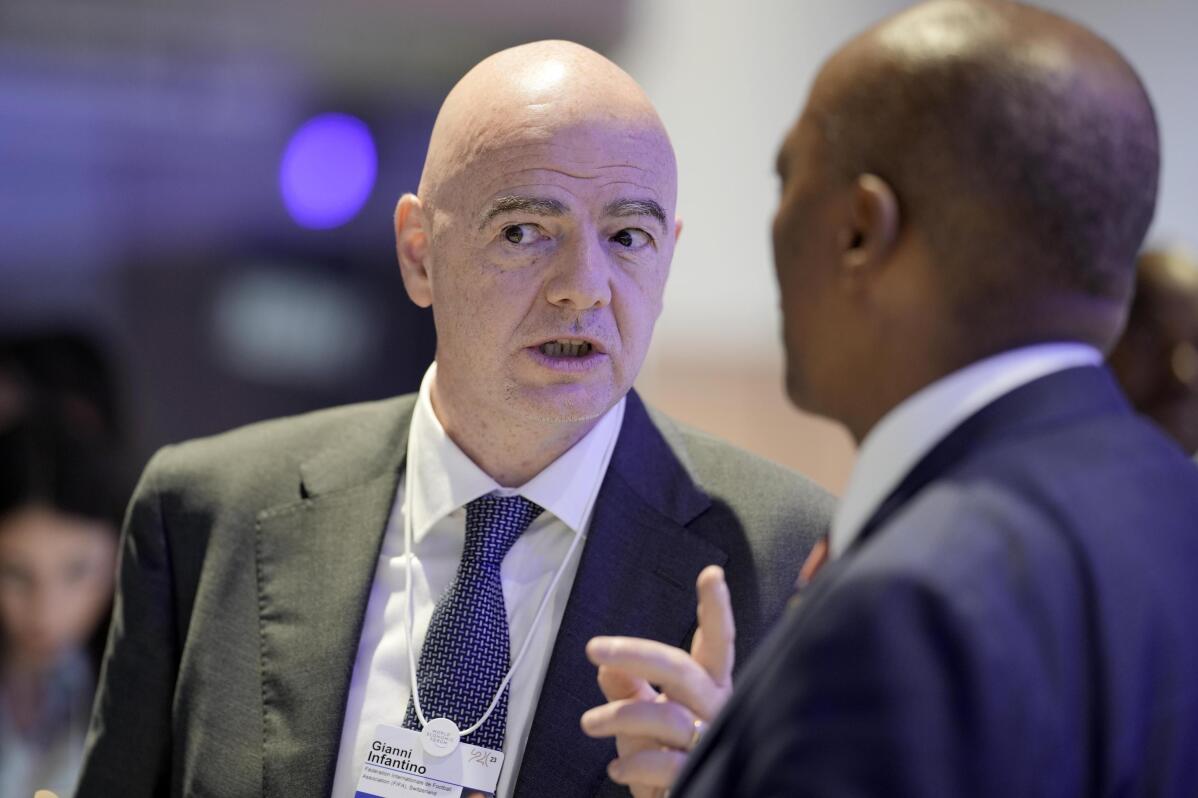 2 of 2

|
FIFA President Gianni Infantino, left, talks with South African mining businessman Patrice Motsepe, right, at the World Economic Forum in Davos, Switzerland, on Wednesday, Jan. 18, 2023. The annual meeting of the World Economic Forum is taking place in Davos from Jan. 16 until Jan. 20, 2023. (AP Photo/Markus Schreiber)
2 of 2
FIFA President Gianni Infantino, left, talks with South African mining businessman Patrice Motsepe, right, at the World Economic Forum in Davos, Switzerland, on Wednesday, Jan. 18, 2023. The annual meeting of the World Economic Forum is taking place in Davos from Jan. 16 until Jan. 20, 2023. (AP Photo/Markus Schreiber)
GENEVA (AP) — FIFA had reserves of almost $4 billion after a financially successful 2022 World Cup in Qatar, and booming hospitality and ticket sales at the 2026 tournament in North America are expected to add billions to the income of soccer's international governing body.
FIFA detailed "exceptionally robust" finances in its 2022 annual report late Tuesday that saw the annual bonus of President Gianni Infantino rise by 620,000 Swiss francs ($673,000). His pre-tax base salary and bonus package totaled 3.6 million Swiss francs ($3.9 million) plus more FIFA-paid expenses and benefits.
At the World Cup in November, FIFA announced record revenue of almost $7.6 billion for the four-year commercial cycle through 2022 that is mostly earned by the men's World Cup.
FIFA said its reserves stood at $3.97 billion at year's end compared with $1.6 billion through 2021.
"FIFA's financial position remains exceptionally robust and sustainable with a substantial cash base and sufficient reserves," soccer's world body said in the report.
The $11 billion income conservatively forecast in December for the next four years is fueled by using mostly NFL stadiums for an expanded 48-team World Cup in 2026 that will be co-hosted by the United States, Canada and Mexico.
Using home stadiums of the Dallas Cowboys, Los Angeles Rams and the Super Bowl champion Kansas City Chiefs plus other NFL venues has driven FIFA's expected revenue of $3.1 billion in hospitality and ticket sales across the next four years.
FIFA said it got a combined $929 million in Qatar from ticket sales for the 64 games and a hospitality program that was sold in 2011 — for a rights fee and profit share adding up to $243 million — to long-time World Cup partner MATCH.
"Hospitality sales (will be) largely driven by the strategic model in operation, which has moved away from the rights fee model, under which FIFA's hospitality services were outsourced," FIFA said in the annual report. Operational costs of $638 million are foreseen for the 2026 hospitality program.
The 2026 World Cup s expected to far exceed the tournament record attendance of nearly 3.6 million set at the United States-hosted 1994 edition, which included 52 games in a 24-team format.
With 48 teams in North America in 2026, FIFA previously agreed an 80-game schedule but Infantino said in Qatar that decision will be reviewed. A format of 104 games is possible.
FIFA also forecast big increases in broadcast rights and sponsorships sales through 2026.
Pointing to "North American time zones offering favorable coverage across the globe … plus an expanded match schedule," FIFA forecast total broadcast revenue of $4.26 billion through 2026, rising by nearly $1 billion from the 2019-22 period. That new total is equal to one year of TV and sponsor money for Europe's Champions League.
Marketing revenue is set to rise from $1.8 billion to almost $2.7 billion, though only a few deals such as Coca-Cola and Adidas currently extend beyond the Qatar tournament.
FIFA said its $11 billion total revenue estimate did not include the Club World Cup that is set to re-launch in 2025 with a 32-team tournament. Infantino previously valued that event at $3 billion per edition.
Spending is also set to rise sharply through 2026, with FIFA again conservatively budgeting for a $100 million profit over four years.
FIFA's projected costs are $3.84 billion for the 2026 World Cup and $435 million on the Women's World Cup that starts in July in Australia and New Zealand.
Spending on the 2026 men's event includes a total of $896 million on prize money for the 48 teams plus payments to clubs for releasing their players to national-team duty. Clubs worldwide received a total of $209 million from the 2022 World Cup, calculated at a daily rate per player.
FIFA also will pay $2.25 billion in development funds across its 211 member federations — which get at least $2 million per year — the six continental confederations and regional soccer bodies.
A further $660 million is available in a Football Development Fund to nurture the game "in all its forms and at all levels," the report said.
Committing to spend tens of millions on communications such as websites and phone apps, FIFA said it had "lived up to its role as the main source of information for football lovers everywhere."
Spending of $367 million on governance and administration personnel is expected over the next four years. Some staff, in areas such as marketing and legal departments, are expected to work in North America rather than FIFA's home city Zurich.
FIFA said its CEO-like secretary general Fatma Samoura got a salary and bonus package of 1.9 million Swiss francs ($2.06 million) last year, including a bonus that doubled to 600,000 Swiss francs ($650,000).
With so much cash at hand, FIFA makes short-term loans to Swiss public authorities through an online platform matching investors to borrowers. Those third-party loans amounted to $737 million on Dec. 31, FIFA said.
___
More AP soccer: https://apnews.com/hub/soccer and https://twitter.com/AP_Sports