Column: End of the WGCs with more to come, minus Match Play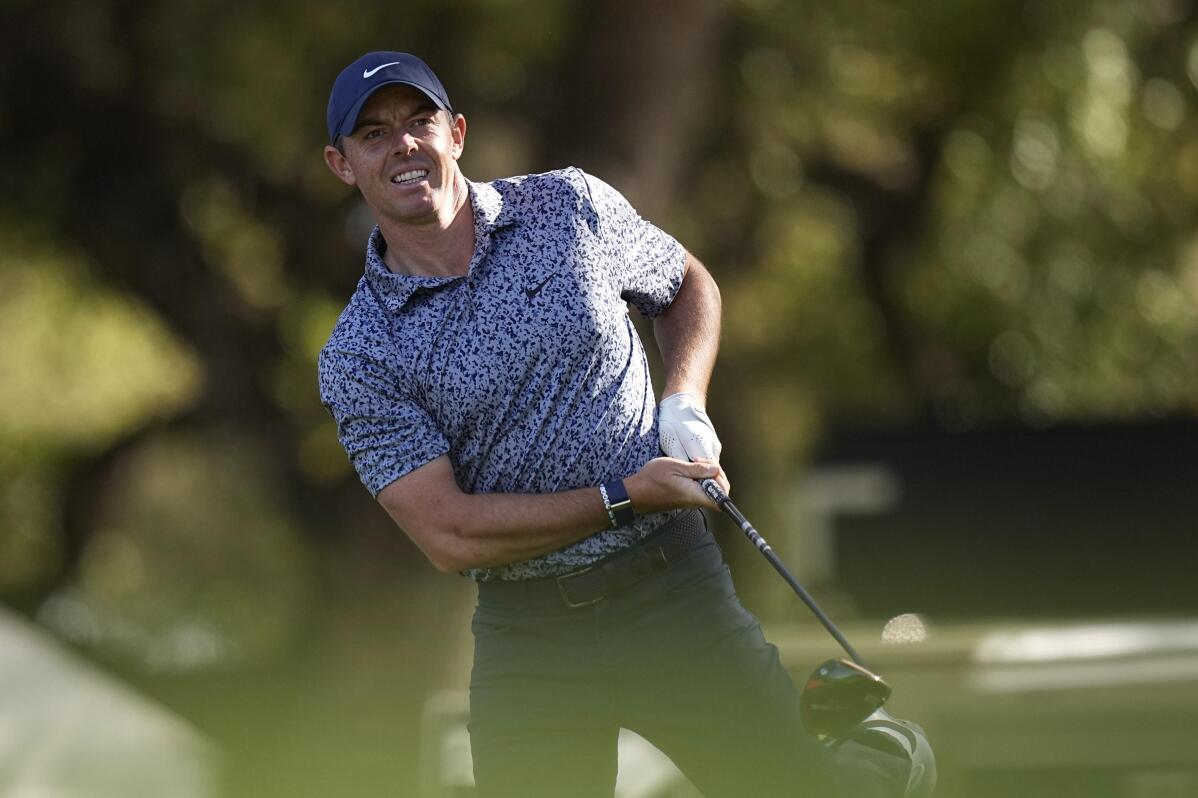 1 of 4

|
Rory McIlroy, of Northern Ireland, reacts to his drive on the eighth hole during a round of 16 at the Dell Technologies Match Play Championship golf tournament in Austin, Texas, Saturday, March 25, 2023. (AP Photo/Eric Gay)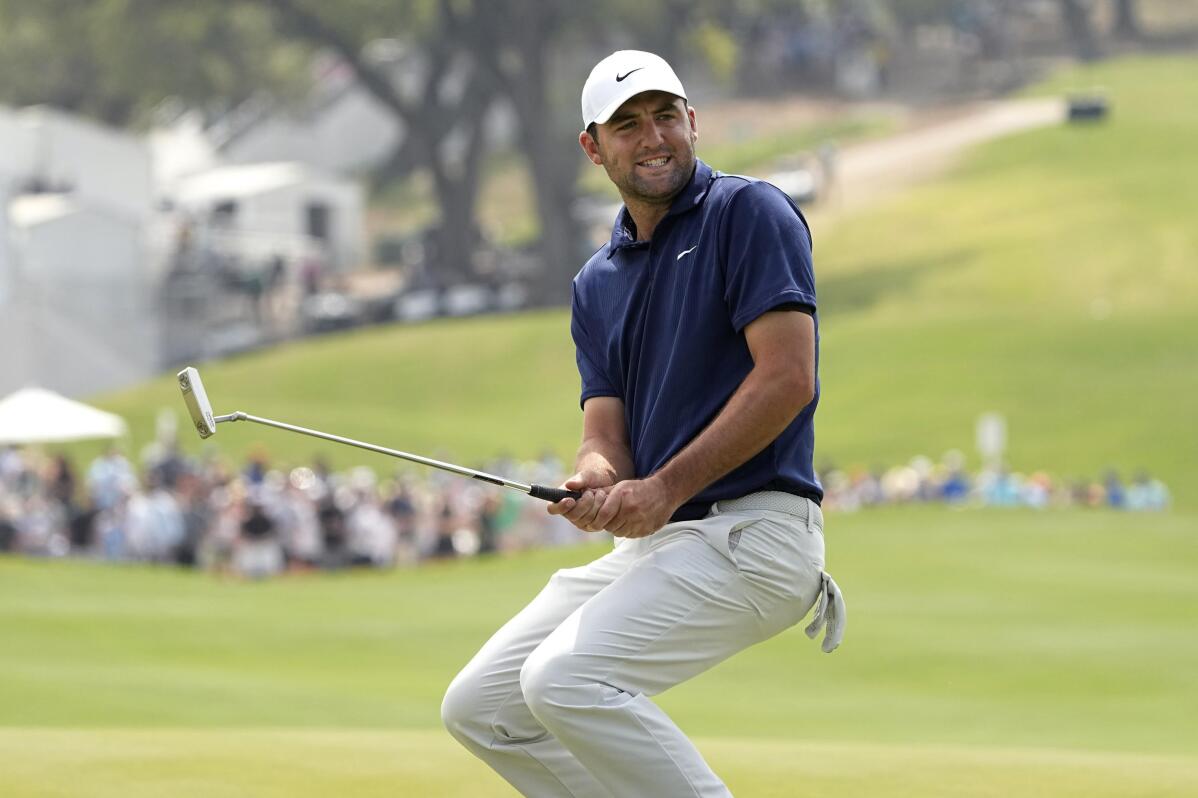 2 of 4

|
Scottie Scheffler reacts to missing a putt on a playoff hole in the semifinal round at the Dell Technologies Match Play Championship golf tournament in Austin, Texas, Sunday, March 26, 2023. Scheffler, the defending champion, lost to Sam Burns. (AP Photo/Eric Gay)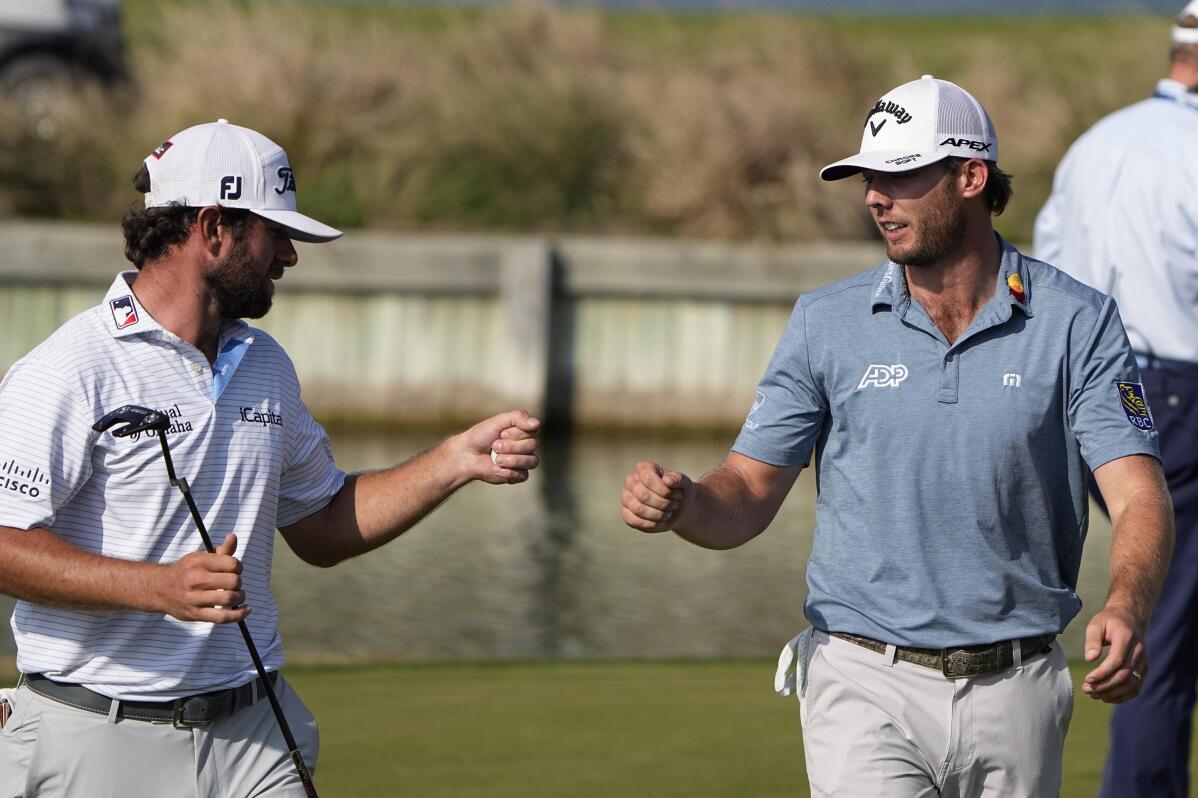 3 of 4

|
Sam Burns, right, is congratulated by Cameron Young after Burns defeated him in the final match at the Dell Technologies Match Play Championship golf tournament in Austin, Texas, Sunday, March 26, 2023. Michael Dell, left, presented the trophy. (AP Photo/Eric Gay)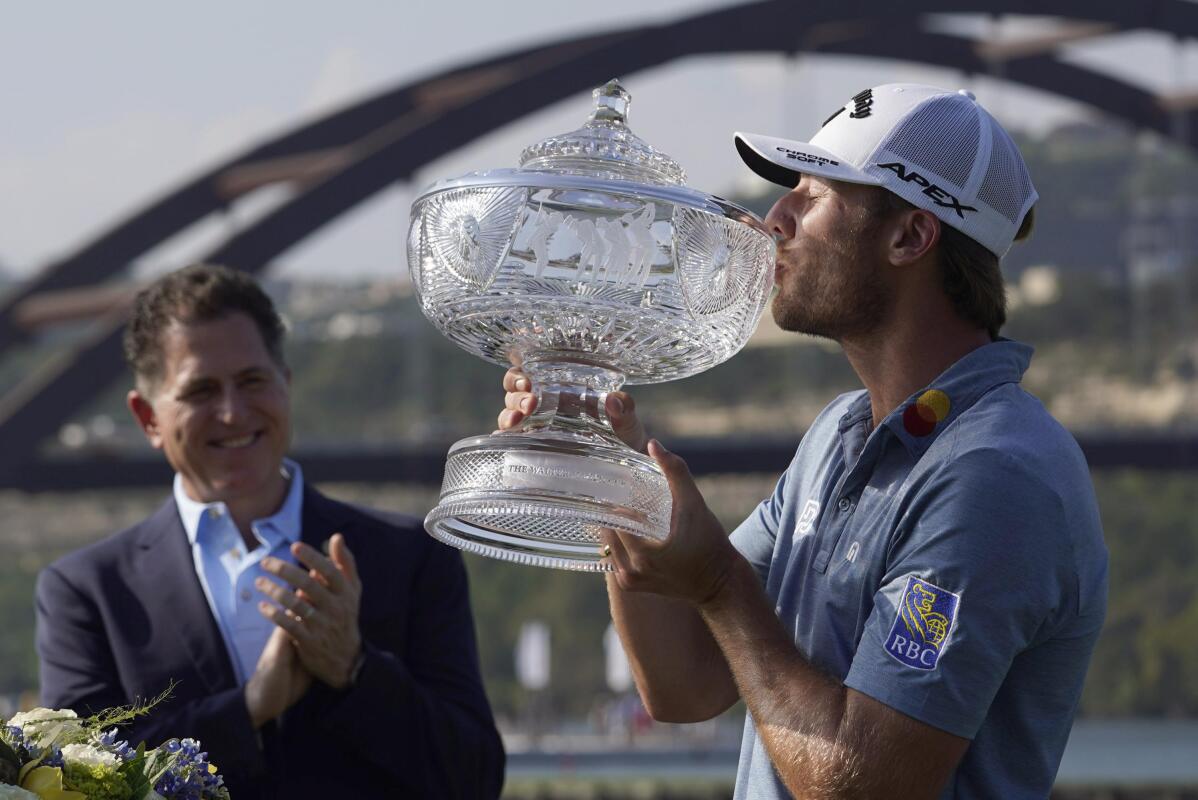 4 of 4

|
Sam Burns, right, kisses his trophy after defeating Cameron Young in the final match at the Dell Technologies Match Play Championship golf tournament in Austin, Texas, Sunday, March 26, 2023. Michael Dell, left, presented the trophy. (AP Photo/Eric Gay)
Column: End of the WGCs with more to come, minus Match Play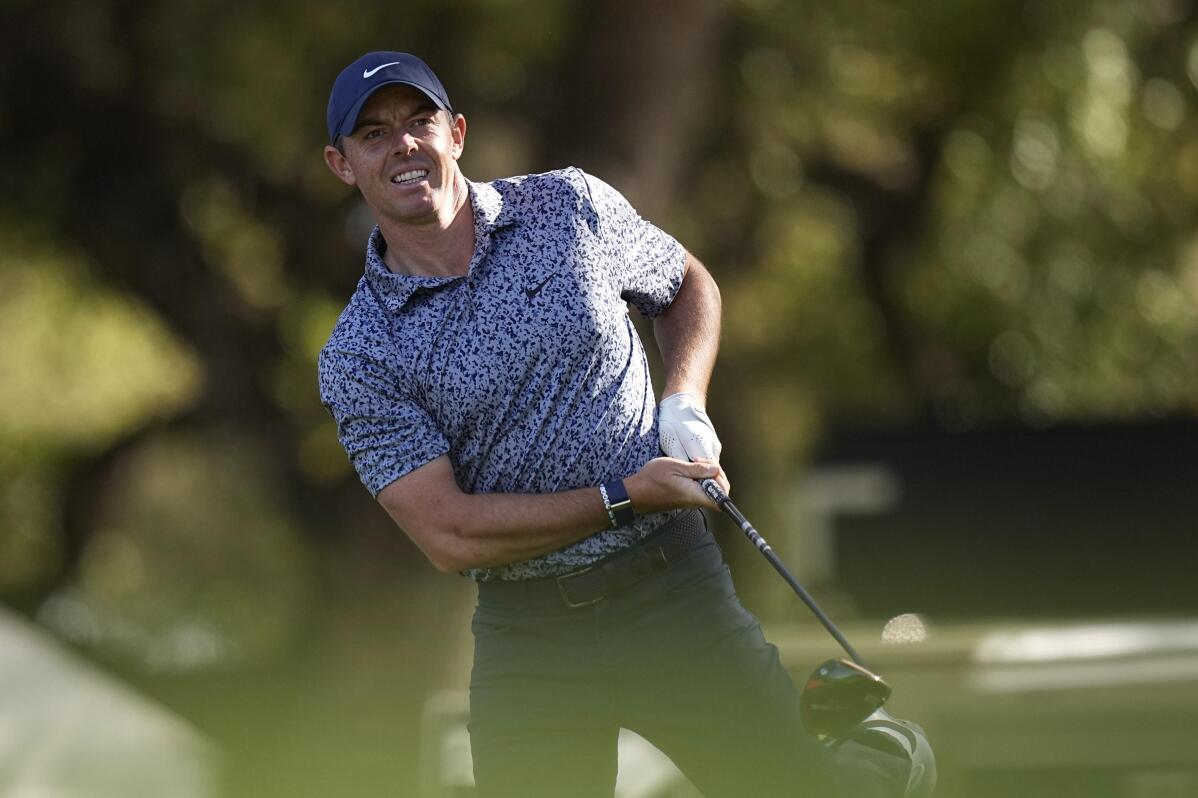 1 of 4

|
Rory McIlroy, of Northern Ireland, reacts to his drive on the eighth hole during a round of 16 at the Dell Technologies Match Play Championship golf tournament in Austin, Texas, Saturday, March 25, 2023. (AP Photo/Eric Gay)
1 of 4
Rory McIlroy, of Northern Ireland, reacts to his drive on the eighth hole during a round of 16 at the Dell Technologies Match Play Championship golf tournament in Austin, Texas, Saturday, March 25, 2023. (AP Photo/Eric Gay)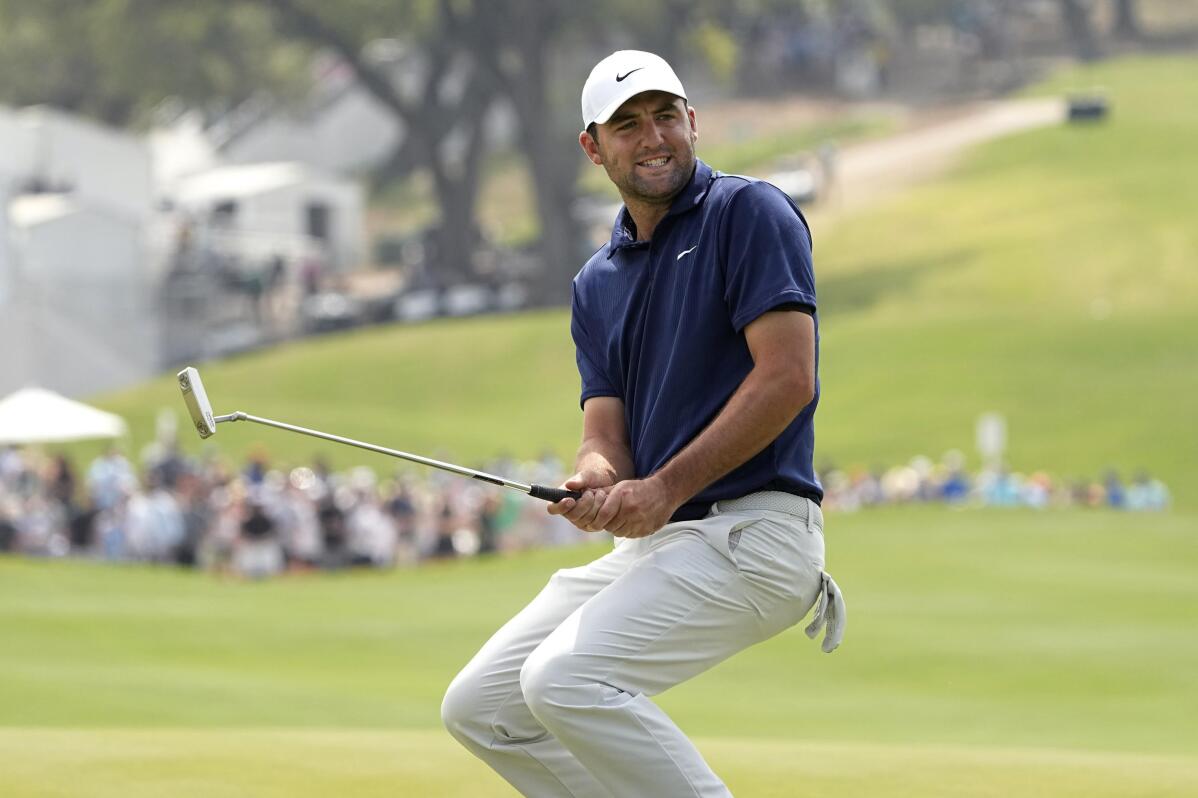 2 of 4

|
Scottie Scheffler reacts to missing a putt on a playoff hole in the semifinal round at the Dell Technologies Match Play Championship golf tournament in Austin, Texas, Sunday, March 26, 2023. Scheffler, the defending champion, lost to Sam Burns. (AP Photo/Eric Gay)
2 of 4
Scottie Scheffler reacts to missing a putt on a playoff hole in the semifinal round at the Dell Technologies Match Play Championship golf tournament in Austin, Texas, Sunday, March 26, 2023. Scheffler, the defending champion, lost to Sam Burns. (AP Photo/Eric Gay)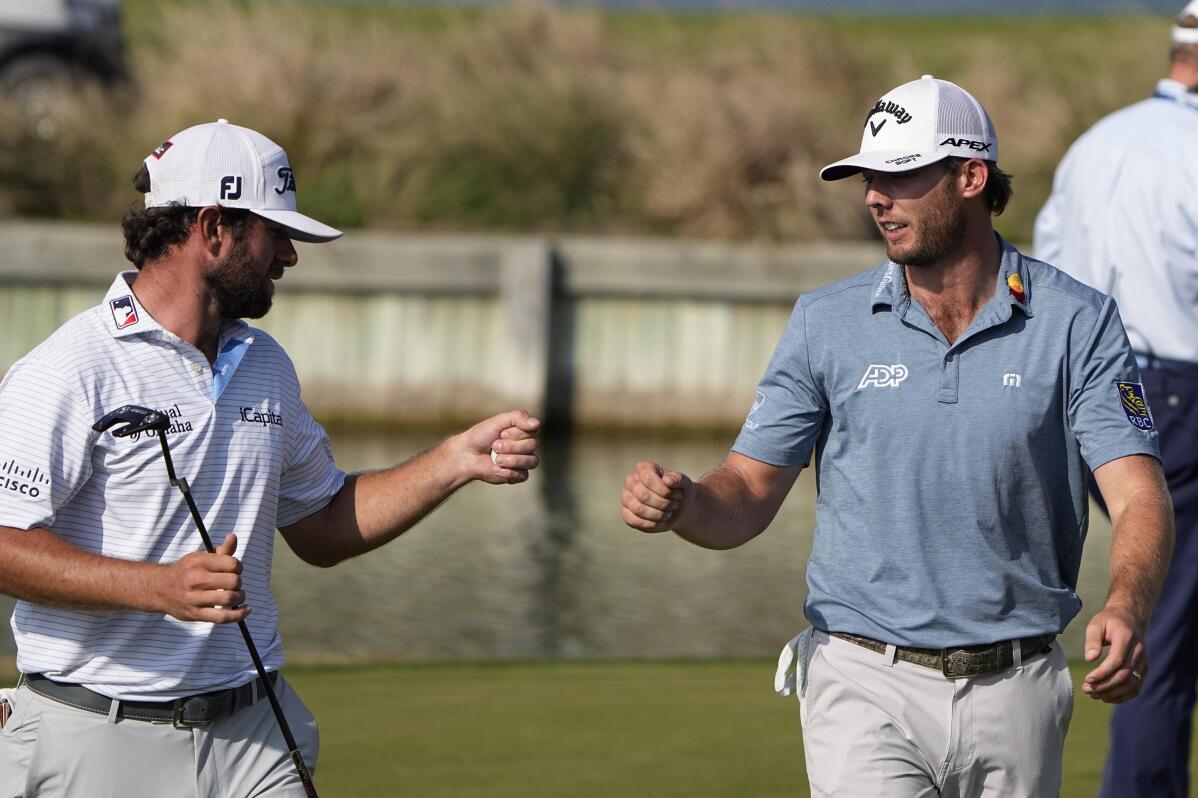 3 of 4

|
Sam Burns, right, is congratulated by Cameron Young after Burns defeated him in the final match at the Dell Technologies Match Play Championship golf tournament in Austin, Texas, Sunday, March 26, 2023. Michael Dell, left, presented the trophy. (AP Photo/Eric Gay)
3 of 4
Sam Burns, right, is congratulated by Cameron Young after Burns defeated him in the final match at the Dell Technologies Match Play Championship golf tournament in Austin, Texas, Sunday, March 26, 2023. Michael Dell, left, presented the trophy. (AP Photo/Eric Gay)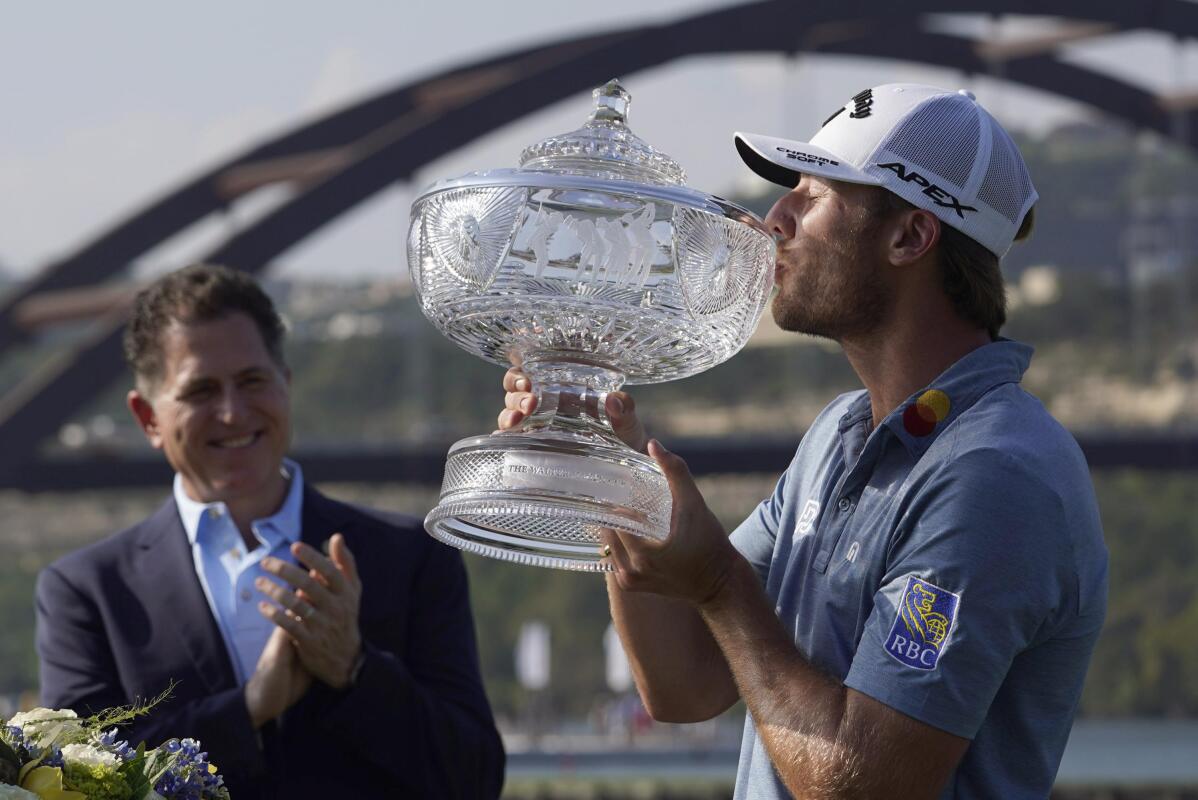 4 of 4

|
Sam Burns, right, kisses his trophy after defeating Cameron Young in the final match at the Dell Technologies Match Play Championship golf tournament in Austin, Texas, Sunday, March 26, 2023. Michael Dell, left, presented the trophy. (AP Photo/Eric Gay)
4 of 4
Sam Burns, right, kisses his trophy after defeating Cameron Young in the final match at the Dell Technologies Match Play Championship golf tournament in Austin, Texas, Sunday, March 26, 2023. Michael Dell, left, presented the trophy. (AP Photo/Eric Gay)
AUSTIN, Texas (AP) — Nick Price and Rory McIlroy are footnotes in World Golf Championships history.
Price hit the first shot when this series began in 1999, at La Costa in an opening match against Frankie Minoza of the Philippines. McIlroy hit the last one, a 6-foot par putt on the 17th hole at Austin Country Club to beat Scottie Scheffler.
Too bad it was only for third place.
That was the last of 2,022 matches over 24 years on six golf courses in two countries. Match Play started and ended the WGCs. In between were 57 others played on 13 courses.
The eulogy requires an asterisk.
The WGC-HSBC Champions in Shanghai has a contract through 2025. It was last played in 2019 because of the COVID-19 pandemic and the PGA Tour hasn't said what will happen. The China Golf Association ultimately decides if it gets played, though there is a clear sense the tour would love for this one to quietly go away.
But is this really the end of the WGCs? Only in name, or initials.
Cameron Young grew up around golf as the son of Sleepy Hollow's head pro, and while he's only 25, he still remembers Tiger Woods winning most of them. Fair enough, since Woods won 18 of the 47 times he played in WGCs.
"Not quite the majors, but they were their own thing that was really cool," Young said after losing the championship match to Sam Burns. "They kind of filled a unique space. It's been really fun the last two years coming to play this one — unfortunately, the only one left. It's a different experience. You get the best 64 players in the world in one place.
"You just know every year this is who you're going to get and it's just fun testing yourself against that group of guys."
Gone is the WGC that originally alternated between the U.S. and Europe, then replaced the regular PGA Tour event at Doral in 2007, went to Mexico in 2016 and made a final stop in Florida in 2021. Gone is the WGC at Firestone, which in 2018 took over a regular tournament in Memphis, Tennessee, and then quietly went away when Memphis became a FedEx Cup playoff.
And now the Match Play is gone, at least as a WGC. PGA Tour Commissioner Jay Monahan said earlier this month it "didn't work" in next year's schedule.
That's because the 2024 schedule is loaded with WGCs. It's just that now they will be known as "DEs," which stands for "designated events." It's an acronym that mostly gets used at the GH (that's an acronym for "global home" the tour uses to describe its headquarters).
Think about it. These $20 million tournaments will have limited fields with no cuts for the best players in the world, along with room for a few other players who have earned their way into the field.
The difference is that those other players will all be PGA Tour members.
To Young's point, in every tournament, you know who you're going to get. They will all be very good. They will fill a unique space. They will be fun to play. And everyone gets rich.
Missing, of course, is the avenue for players around the world. Most of them have an ambition of joining the PGA Tour, anyway. But there was a charm about the WGCs in having players from every corner of the globe having a chance to shine on a big stage.
One year at Doral, officials were trying to get a rising star in the same group as Woods. They settled on a young South African — Louis Oosthuizen, who two years later had that name engraved on the claret jug at St. Andrews.
Shubhankar Sharma of India got into the WGC in Mexico City in 2018 at age 21. He held the 54-hole lead until fading on Sunday. Far more memorable was when Sharma saw Phil Mickelson on the practice green at Chapultepec before the third round and went to introduce himself. Mickelson thought he was media and said: "Not right now. After the round."
Otherwise, the concept hasn't changed. The WGCs started with three, then expanded to four in 2009 with Shanghai. And now think of them as eight.
But there needs to be room for match play, even without an acronym.
The designated events are successful in their own right or they wouldn't be under consideration to get elevated. That doesn't mean the tour can't find a spot for match play — if not an existing tournament, then a new one.
McIlroy is on the PGA Tour board and is one of the strongest voices among players, so his words from Sunday were worth noting.
"It's not on the schedule for 2024, but that's not to say that it won't be on the schedule for 2025," McIlroy said. "I think if you look at player sentiment, if you look at public opinion, I think it will be a real shame not to have a match play event on the schedule, no matter what it is or where it is."
The "where" and the "what" do matter.
The fact that Sunday's finale was dud — Burns beat Young on the 13th hole — was a reminder that match play is tough on television and typically lacks drama at the end. In 23 years only four matches went the distance, and only once did the title match involve the top four seeds.
"Match play is the purest form of the game and for the biggest tour in the world not to play a match play event would be a real shame," McIlroy said.
___
AP golf: https://apnews.com/hub/golf and https://twitter.com/AP_Sports