Civilian death toll in Yemen mounting despite US assurances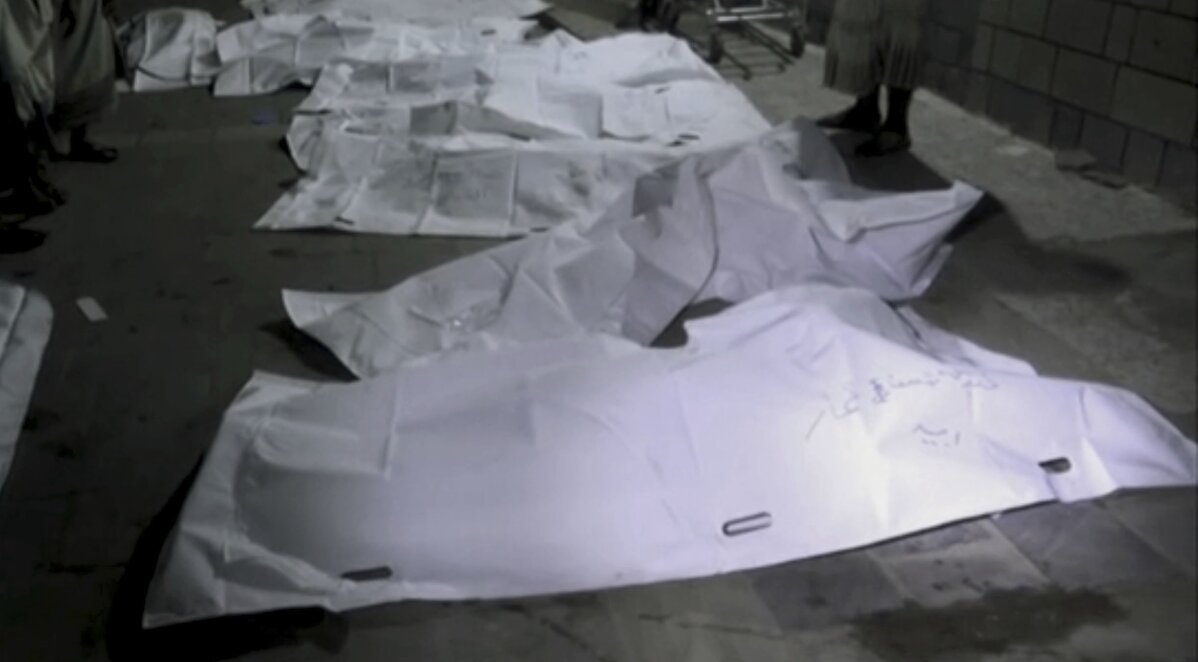 1 of 5

|
This Oct. 24, 2018 image made from Associated Press video, shows the bodies of victims of a Saudi-led coalition strike that killed at least 21 civilians, including children, at a fruit-and-vegetable market in the town of Bayt el-Faqih, near Hodeida, Yemen. Airstrikes by Saudi Arabia and its allies in Yemen are on a pace to kill more civilians in 2018 than last year despite US claims that the coalition is working to prevent such bloodshed, a database tracking violence shows. (AP Video via AP)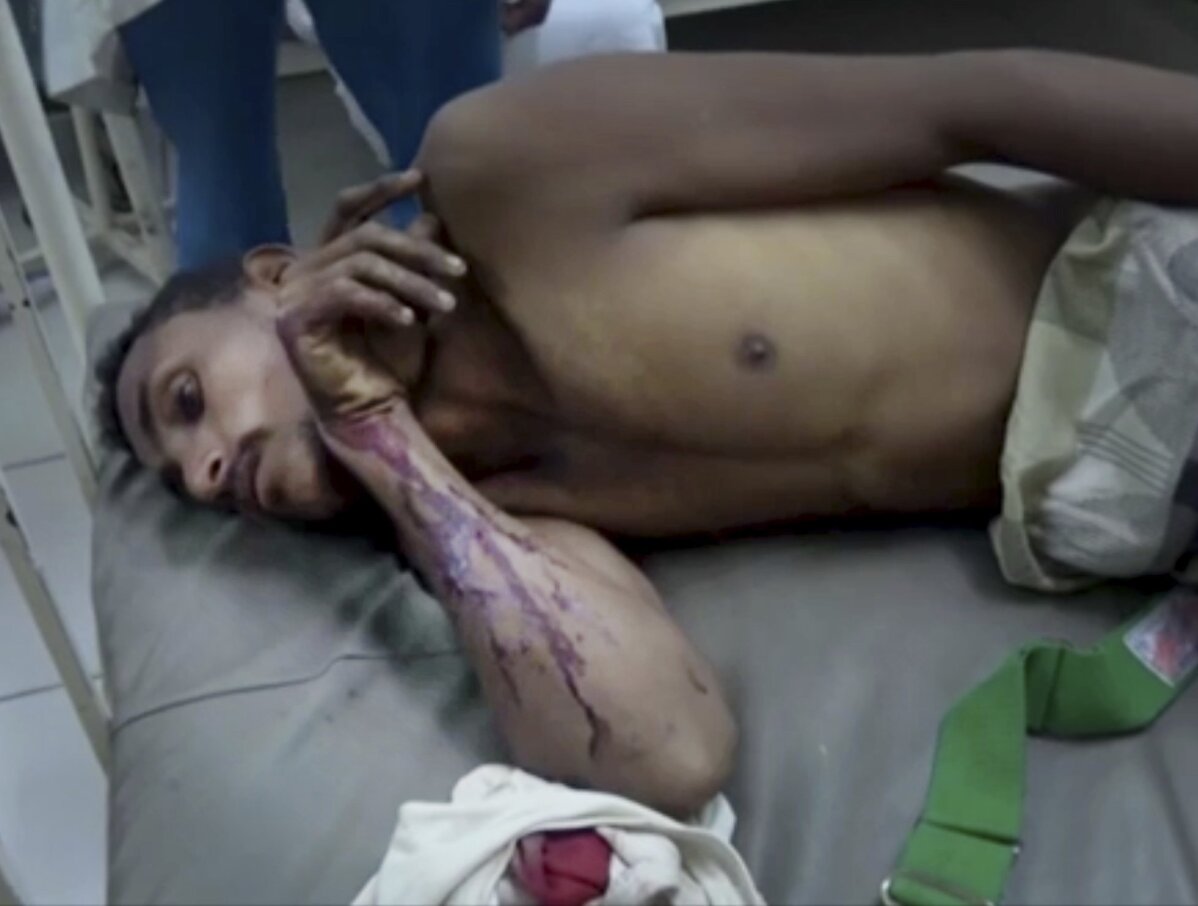 2 of 5

|
This Oct. 24, 2018 image made from Associated Press video shows, a man waiting to receive treatment on a hospital bed after a Saudi-led coalition strike that hit a fruit-and-vegetable market killing at least 21 civilians, in the town of Bayt el-Faqih near Hodeida, Yemen. Airstrikes by Saudi Arabia and its allies in Yemen are on a pace to kill more civilians in 2018 than last year despite US claims that the coalition is working to prevent such bloodshed, a database tracking violence shows. (AP Video via AP)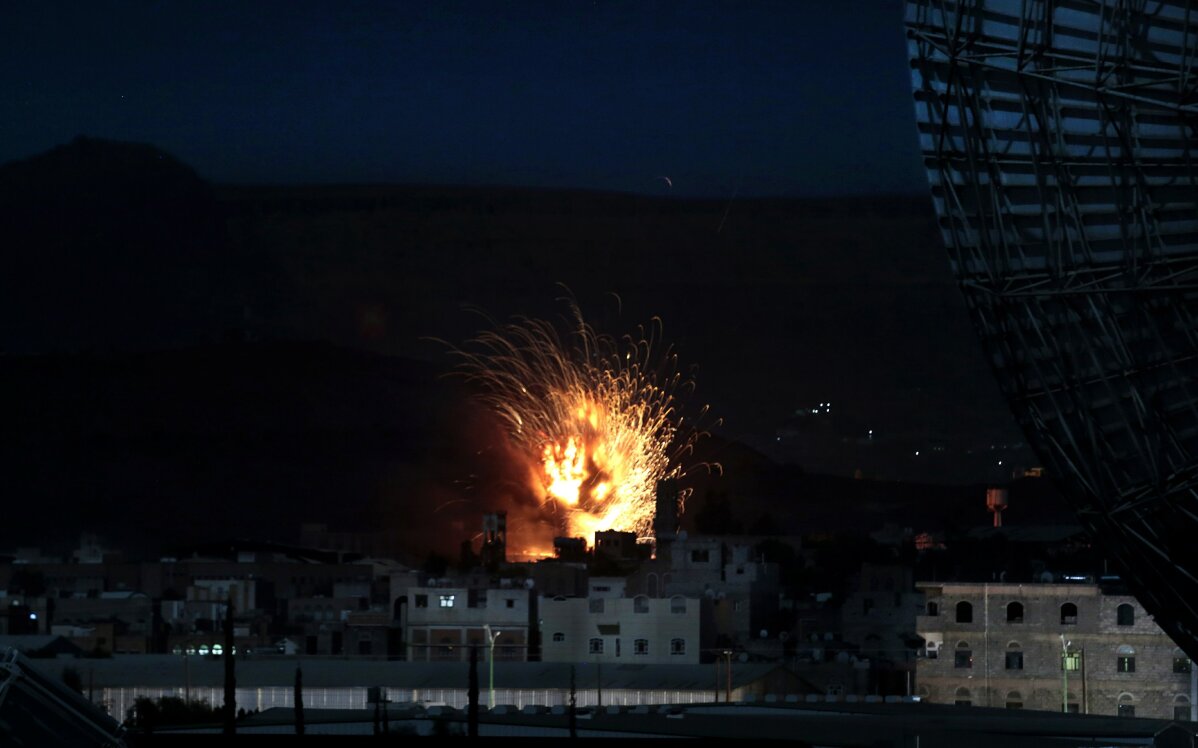 3 of 5

|
FILE - In this Jan. 11, 2017 file photo, an explosion follows a Saudi-led airstrike on an army base in Sanaa, Yemen. Airstrikes by Saudi Arabia and its allies in Yemen are on a pace to kill more civilians in 2018 than last year despite US claims that the coalition is working to prevent such bloodshed, a database tracking violence shows. The war, nearly four years old, may have killed as many as 80,000 people. (AP Photo/Hani Mohammed, File)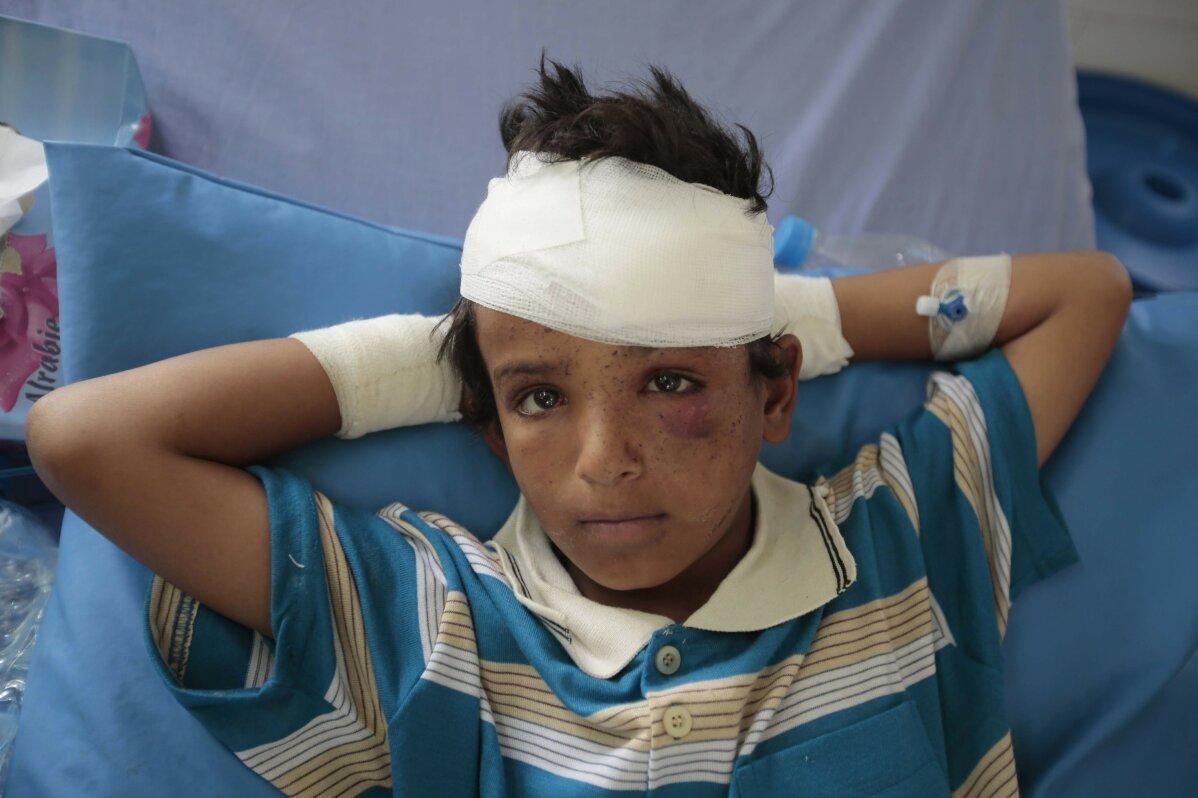 5 of 5

|
FILE - In this Aug. 12, 2018 file photo, a child injured in a deadly Saudi-led coalition airstrike rests in a hospital in Saada, Yemen. Airstrikes by Saudi Arabia and its allies in Yemen are on a pace to kill more civilians in 2018 than last year despite US claims that the coalition is working to prevent such bloodshed, a database tracking violence shows. The war, nearly four years old, may have killed as many as 80,000 people, according to the figures, not counting the untold numbers who have died of hunger in the humanitarian disaster wreaked by the conflict. (AP Photo/Hani Mohammed, File)
Civilian death toll in Yemen mounting despite US assurances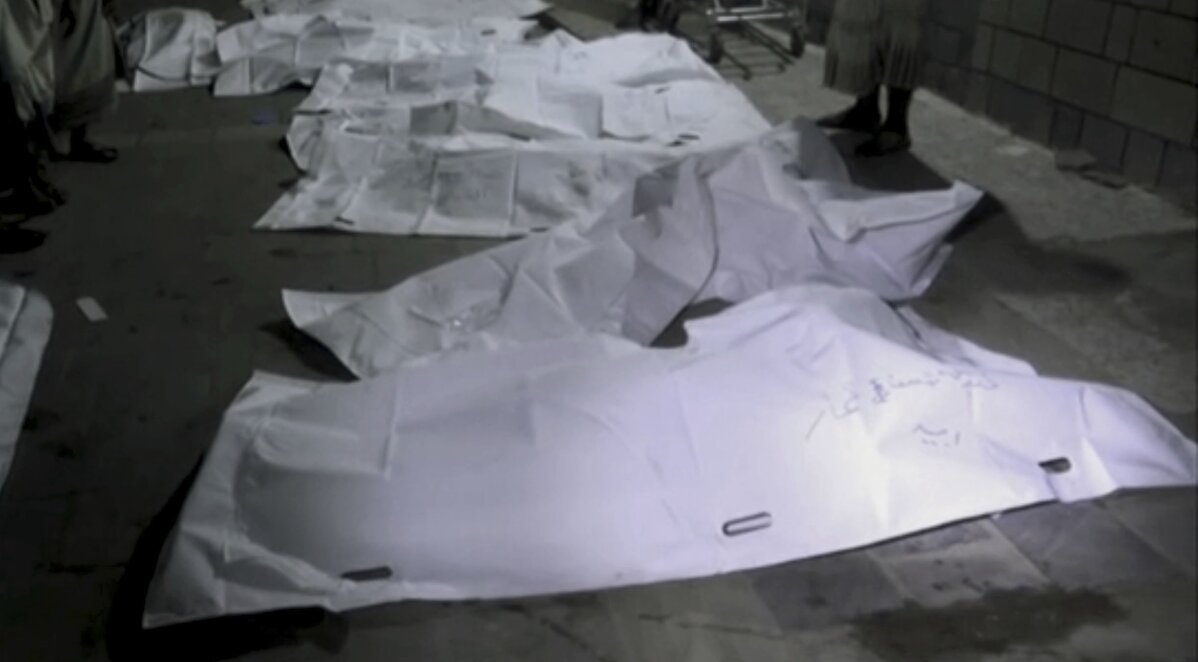 1 of 5

|
This Oct. 24, 2018 image made from Associated Press video, shows the bodies of victims of a Saudi-led coalition strike that killed at least 21 civilians, including children, at a fruit-and-vegetable market in the town of Bayt el-Faqih, near Hodeida, Yemen. Airstrikes by Saudi Arabia and its allies in Yemen are on a pace to kill more civilians in 2018 than last year despite US claims that the coalition is working to prevent such bloodshed, a database tracking violence shows. (AP Video via AP)
1 of 5
This Oct. 24, 2018 image made from Associated Press video, shows the bodies of victims of a Saudi-led coalition strike that killed at least 21 civilians, including children, at a fruit-and-vegetable market in the town of Bayt el-Faqih, near Hodeida, Yemen. Airstrikes by Saudi Arabia and its allies in Yemen are on a pace to kill more civilians in 2018 than last year despite US claims that the coalition is working to prevent such bloodshed, a database tracking violence shows. (AP Video via AP)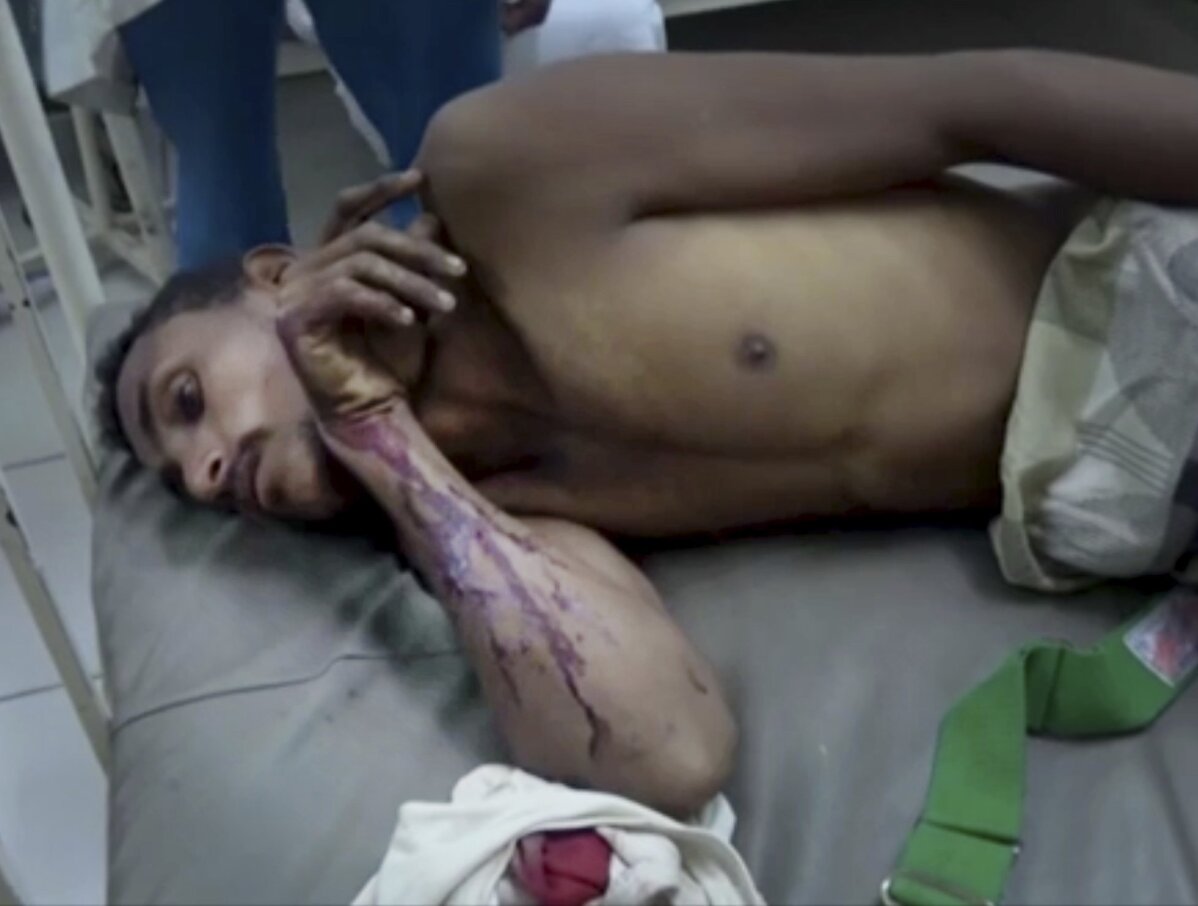 2 of 5

|
This Oct. 24, 2018 image made from Associated Press video shows, a man waiting to receive treatment on a hospital bed after a Saudi-led coalition strike that hit a fruit-and-vegetable market killing at least 21 civilians, in the town of Bayt el-Faqih near Hodeida, Yemen. Airstrikes by Saudi Arabia and its allies in Yemen are on a pace to kill more civilians in 2018 than last year despite US claims that the coalition is working to prevent such bloodshed, a database tracking violence shows. (AP Video via AP)
2 of 5
This Oct. 24, 2018 image made from Associated Press video shows, a man waiting to receive treatment on a hospital bed after a Saudi-led coalition strike that hit a fruit-and-vegetable market killing at least 21 civilians, in the town of Bayt el-Faqih near Hodeida, Yemen. Airstrikes by Saudi Arabia and its allies in Yemen are on a pace to kill more civilians in 2018 than last year despite US claims that the coalition is working to prevent such bloodshed, a database tracking violence shows. (AP Video via AP)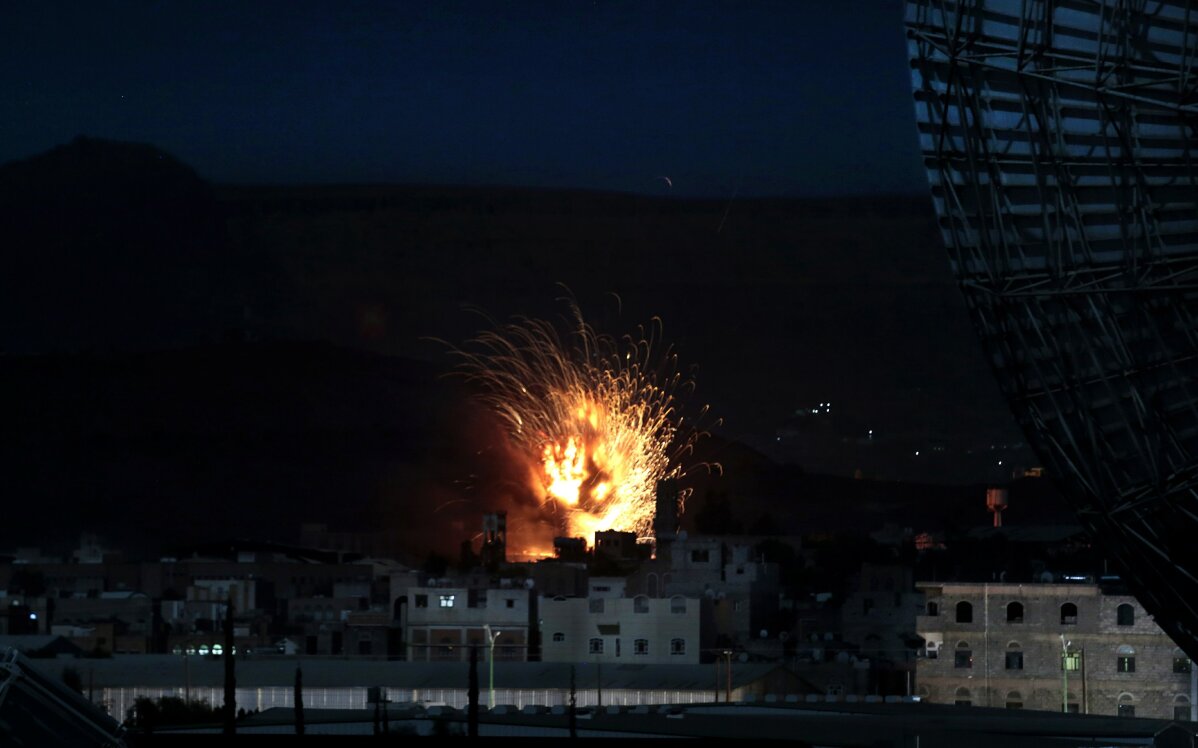 3 of 5

|
FILE - In this Jan. 11, 2017 file photo, an explosion follows a Saudi-led airstrike on an army base in Sanaa, Yemen. Airstrikes by Saudi Arabia and its allies in Yemen are on a pace to kill more civilians in 2018 than last year despite US claims that the coalition is working to prevent such bloodshed, a database tracking violence shows. The war, nearly four years old, may have killed as many as 80,000 people. (AP Photo/Hani Mohammed, File)
3 of 5
FILE - In this Jan. 11, 2017 file photo, an explosion follows a Saudi-led airstrike on an army base in Sanaa, Yemen. Airstrikes by Saudi Arabia and its allies in Yemen are on a pace to kill more civilians in 2018 than last year despite US claims that the coalition is working to prevent such bloodshed, a database tracking violence shows. The war, nearly four years old, may have killed as many as 80,000 people. (AP Photo/Hani Mohammed, File)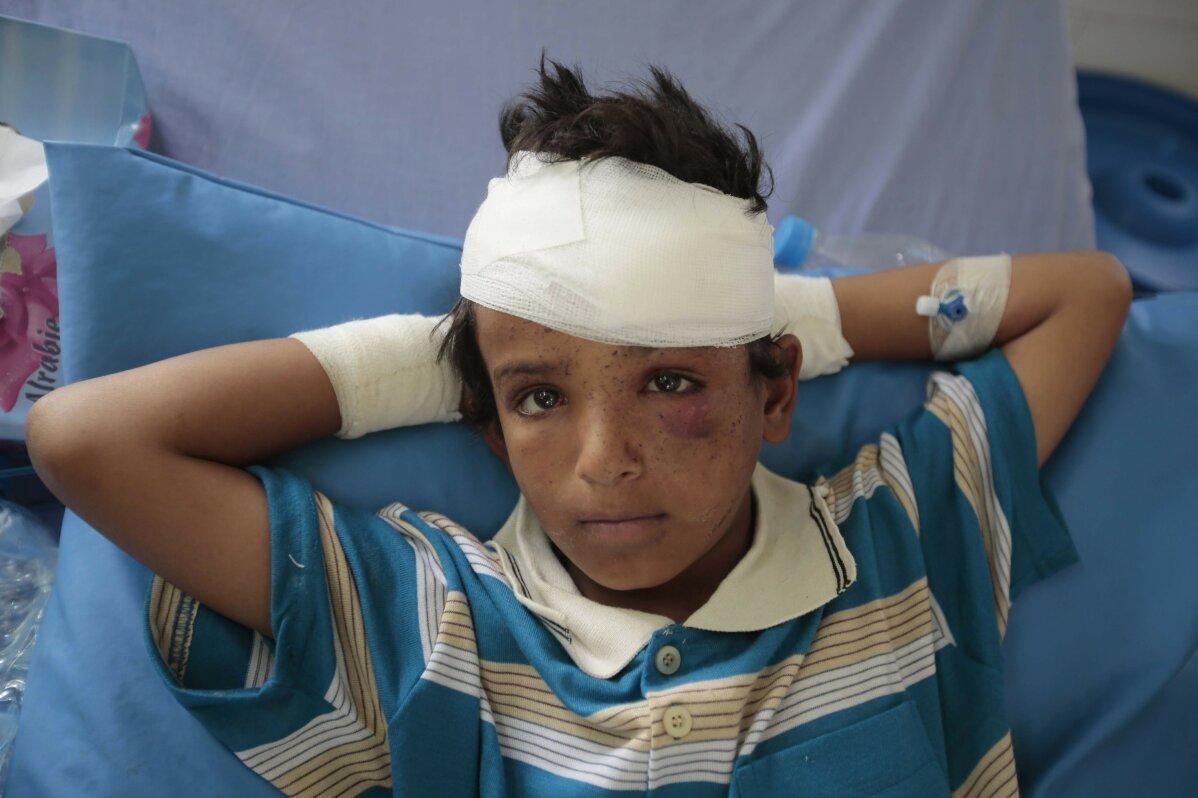 5 of 5

|
FILE - In this Aug. 12, 2018 file photo, a child injured in a deadly Saudi-led coalition airstrike rests in a hospital in Saada, Yemen. Airstrikes by Saudi Arabia and its allies in Yemen are on a pace to kill more civilians in 2018 than last year despite US claims that the coalition is working to prevent such bloodshed, a database tracking violence shows. The war, nearly four years old, may have killed as many as 80,000 people, according to the figures, not counting the untold numbers who have died of hunger in the humanitarian disaster wreaked by the conflict. (AP Photo/Hani Mohammed, File)
5 of 5
FILE - In this Aug. 12, 2018 file photo, a child injured in a deadly Saudi-led coalition airstrike rests in a hospital in Saada, Yemen. Airstrikes by Saudi Arabia and its allies in Yemen are on a pace to kill more civilians in 2018 than last year despite US claims that the coalition is working to prevent such bloodshed, a database tracking violence shows. The war, nearly four years old, may have killed as many as 80,000 people, according to the figures, not counting the untold numbers who have died of hunger in the humanitarian disaster wreaked by the conflict. (AP Photo/Hani Mohammed, File)
CAIRO (AP) — Airstrikes by Saudi Arabia and its allies in Yemen are on a pace to kill more civilians than last year, according to a database tracking violence in the country, despite the United States' repeated claims that the coalition is taking precautions to prevent such bloodshed.
The database gives an indication of the scope of the disaster wreaked in Yemen by nearly four years of civil war. At least 57,538 people — civilians and combatants — have been killed since the beginning of 2016, according to the data assembled by the Armed Conflict Location & Event Data Project, or ACLED.
That doesn't include the first nine months of the war, in 2015, which the group is still analyzing. Those data are likely to raise the figure to 70,000 or 80,000, ACLED's Yemen researcher Andrea Carboni told The Associated Press. The organization's count is considered by many international agencies to be one of the most credible, although all caution it is likely an underestimate because of the difficulties in tracking deaths.
The numbers don't include those who have died in the humanitarian disaster caused by the war, particularly starvation. Though there are no firm figures, the aid group Save the Children estimated hunger may have killed 50,000 children in 2017. That was based on a calculation that around 30 percent of severely malnourished children who didn't receive proper treatment likely died.
Renewed uproar over the destruction has put Washington in a corner. The U.S. has sold billions of dollars in weaponry to Saudi Arabia, backing the fight to stop Shiite rebels known as Houthis, who Washington and the coalition consider a proxy for Iran.
That along with tensions over the killing of Saudi journalist Jamal Khashoggi inside the country's consulate in Istanbul may be key factors why Defense Secretary Jim Mattis and Secretary of State Mike Pompeo on Oct. 30 made their biggest push yet for an end to the war, calling for a ceasefire within 30 days and resumed negotiations.
Only a month earlier, Pompeo gave a powerful show of support to the coalition by certifying to Congress that Saudi Arabia and its allies were taking measures to prevent civilian casualties. Certification was a required step in continuing U.S. aid, which includes providing intelligence used in targeting and mid-air refueling for coalition planes.
But deaths from the coalition campaign show no sign of slowing.
Coalition airstrikes and shelling killed at least 4,489 civilians since the beginning of 2016 — nearly three-quarters of all known civilian deaths, according to ACLED's figures.
As of Nov. 3, at least 1,254 civilians were killed by the coalition this year, a rate of four a day. In comparison, 1,386 civilians died in strikes the previous year, or 3.79 a day.
Asked about the finding, the U.S. State Department said in an emailed reply, "Throughout this conflict, the United States has urged all parties to abide by the Law of Armed Conflict, work to prevent harm to civilians and civilian infrastructure, and thoroughly investigate and ensure accountability for any violations."
Bloodshed has surged from fierce fighting at the Red Sea port city of Hodeida, which coalition forces have been trying to retake from the Houthis since June. Civilians have been killed in airstrikes as well as by Houthi shelling and land mines.
Since June, more than 4,500 people — including 515 confirmed civilians — have been killed in Hodeida, nearly triple the number from the first five months of the year.
Aid agencies fear worse is yet to come. The coalition appears to be accelerating its assault before any cease-fire. Its forces have nearly encircled the city, where tens of thousands of people are trapped along with thousands of Houthi fighters. The port is Yemen's main point of entry for food and humanitarian aid, so any cutoff could push millions into starvation.
The coalition launched its air campaign in March 2015 after the Houthis took over northern and central Yemen, driving out the internationally recognized government. The rebels were prevented from overrunning the south only by the coalition's bombardment and support for militia forces.
Tracking casualties is enormously difficult. The few independent monitors on the ground do not have wide access; officials on both sides have an interest in manipulating figures; deaths often take place in remote areas and even in populated areas, confusion of battle makes confirming numbers hard.
The most widely used estimate has been 10,000 dead, made in January 2017 by the United Nations.
In October, the U.N. humanitarian coordinator said at least 65,000 people have been killed or injured since 2016, including 16,000 civilians killed, based on data from health centers. U.N. officials did not reply to queries to elaborate on the figures.
ACLED builds its database on news reports from Yemeni and international media and international agencies. It covers everything from airstrikes, shelling and ground battles between the various forces to militant bombings and violence at protests. The group receives funding in part from the U.S. State Department and Dutch Ministry of Foreign Affairs.
Because of its transparency, its figures are often cited by U.N. agencies and non-governmental organizations. But they caution that even ACLED's data cannot give the full picture — only "the least bad best guess" as an official at one agency put it.
Pinning down how many of the dead are civilians is even tougher.
ACLED counted 6,242 civilians killed since 2016 by "remote violence" on civilian targets — meaning airstrikes, artillery or shelling by either side. Of those, shelling by the Houthis or their allies killed 977.
The full toll is likely much higher. The vast majority of deaths — more than 34,000 — are categorized by ACLED as resulting from battles. But it is impossible to determine whether those are combatants or civilians, Carboni said.
"It's likely an underestimate," he said of the civilian toll. "The numbers caught in the crossfire are not known."
__
Associated Press writers Maggie Michael in Cairo and Matthew Lee in Washington contributed to this report.