Longchamp marks 70 years with its first runway show
NEW YORK (AP) — Sophie Delafontaine had tastemakers Anita Pallenberg and Veruschka on her mind when she was figuring out how to celebrate the 70th year of her family's business, Longchamp.
Working alongside her brother, CEO Jean Cassegrain, she decided to go big with vibrant '70s glamour, a California spirit and the audacious elegance of Paris, where Longchamp was born.
Delafontaine, the creative director, had something else to celebrate Saturday when she staged her show at New York Fashion Week. She had the new face of the brand, Kendall Jenner, who arrived in a bright purple suede mini-dress and gladiator sandals that were also featured on the runway.
Jenner, she said, "embodies all the values" of the brand.
"She's not only a model. She's also a very smart woman. She's a business woman. She's independent, she's international, she's beautiful, of course," Delafontaine said.
Jenner, in the new wave of supermodels, sat with one from the last, Kate Moss. The two chatted and posed for photos before the show began.
Longchamp was originally known as a luxury leather goods company. Later, in the '90s, it launched a foldable nylon tote called "Le Pliage" that took off as a must-have. The brand has since branched out to shoes, accessories and ready-to-wear clothing. Delafontaine said that's why it was time for a fashion show.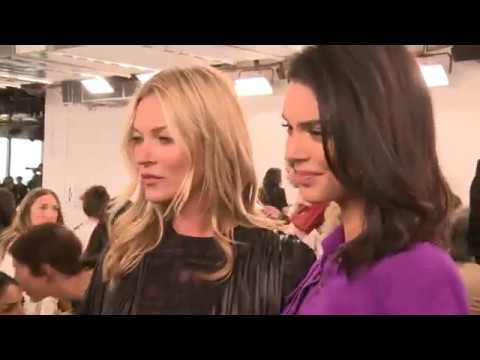 "Finally we are here and I'm very happy," she said. "It's our 70th anniversary and I'm very proud to show the creative part of Longchamp here in New York."
Longchamp chose a venue, 4 World Trade, with views of the Statue of Liberty.
"I feel here a huge energy," Delafontaine said. "It's a very dynamic city. It's also a very strong market for us. We just opened a store on Fifth Avenue so we are very pleased to bring a little part of our French touch here in New York."
Delafontaine featured leather and suede looks draped in fringe and long sheer dresses with bikinis underneath. All the models walked in knee-high gladiator sandals or fuzzy flat slip-on shoes.
Cindy Crawford's daughter, Kaia Gerber, was on the runway. The newly engaged Priyanka Chopra was also among Longchamp's guests.