Nebraska sees spike in butterfly population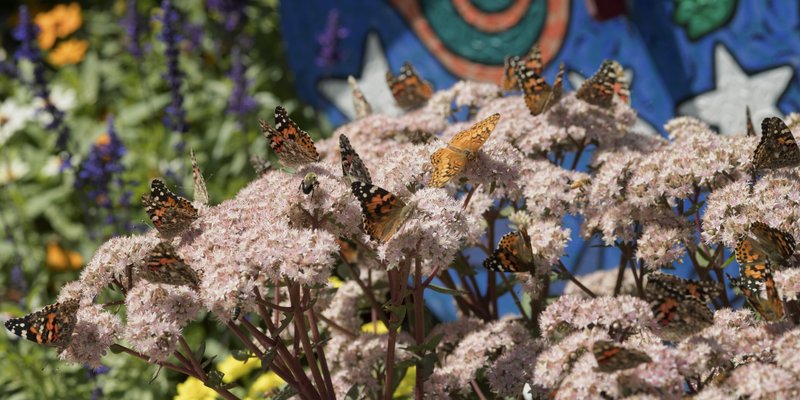 Nebraska sees spike in butterfly population
Nebraska sees spike in butterfly population
OMAHA, Neb. (AP) — Several Nebraska cities are seeing an abundance of butterflies.
Nebraska Extension, a branch of the University of Nebraska, received reports last week of at least 100 painted lady butterflies in some Omaha flower gardens. The gardens usually draw only a few dozen.
"It's a bloom of butterflies," said Jonathan Larson, entomologist with Nebraska Extension in Omaha.
Painted ladies' migrations could be 9,000 miles and span six generations, said Jody Green, entomologist with Nebraska Extension in Lancaster County. She said the butterflies found in cities like Omaha and Lincoln may be migrating or getting ready to lay eggs for the next cycle.
Larson said that Omaha and neighboring cities usually see the orange-and-brown butterflies this time of year, but the overall population is significantly greater this season.
"It's just a special year," he said.
Larson attributed the butterfly boom to the ample rains earlier this year in California, where painted ladies start their migration. The rain resulted in more flowering plants, providing enough nectar to boost the butterfly population.
He said the butterflies spend the summer in cooler places like North Dakota and Canada, but that they head south through Nebraska as fall approaches. Iowa State University entomologist Royce Bitzer said there's also an abundance of the butterfly in South Dakota, Minnesota and Iowa.
Green said the butterflies won't damage plants or harm humans. They just take nectar from flowers.
"So enjoy them, appreciate them," she said. "Who knows when we will have a butterfly explosion again?"