Royals' retirement plans differ from country to country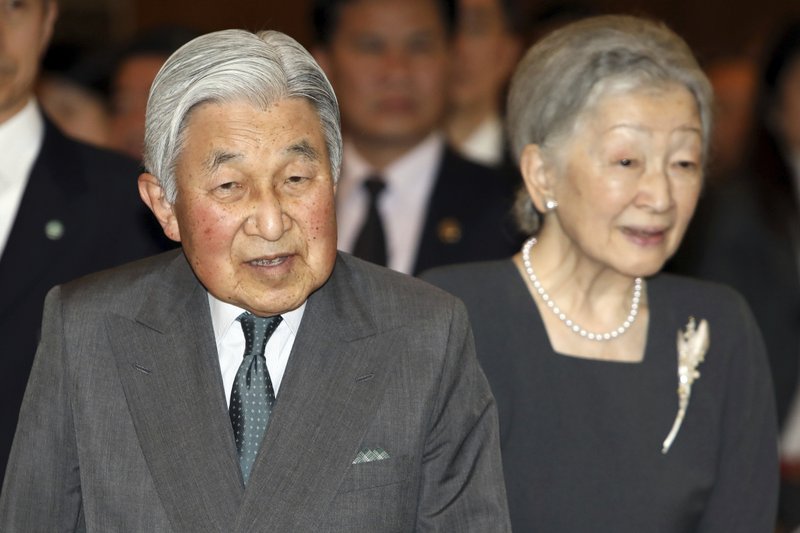 Royals' retirement plans differ from country to country
Royals' retirement plans differ from country to country
By MIKE CORDER
May. 04, 2017
THE HAGUE, Netherlands (AP) — While the announcement Thursday of Britain's Prince Philip's plan to retire in the fall came as a surprise, for some of the world's royal families easing out of the public eye is seen as a normal way of ending their public service and handing the reins to a new generation. For others, though, being a royal really is a job for life.
In the Netherlands, the former queen was recently seen raking mulch in a playground, while the leader of the United Arab Emirates is still in power but hasn't been seen for years since suffering a stroke.
Here is a glance at how some countries deal with aging royals:
THE NETHERLANDS:
Dutch monarchs often abdicate when they consider the time is right — usually once an heir has been suitably groomed to take over.
After 33 years on the throne, former queen, now Princess Beatrix has been enjoying plenty of downtime since she abdicated in 2013 in favor of her eldest son, Willem-Alexander.
Her decision to step down hardly came as a surprise to her loyal subjects. Beatrix's mother and grandmother both abdicated before her.
These days, Beatrix, a 79-year-old widow, lives in a relatively modest residence (it does have its own moat), Kasteel Drakensteyn, in the central Netherlands and has a pared-back schedule of public engagements.
Beatrix still rolls up her sleeves — sometimes literally — to attend a limited number of public events each year. In April she raked mulch in a children's playground as part of a nationwide day of voluntary work and later this month she will attend a symposium of young researchers into muscle diseases.
___
JAPAN:
Japan's Emperor Akihito expressed his apparent wish to abdicate in a rare public message last summer, and the government is making preparations. Unlike Prince Philip, Akihito is not allowed to make his own decision about retirement.
Akihito would be the first emperor to abdicate in 200 years. The government is reportedly considering his abdication at the end of 2018, when Akihito turns 85 and marks 30 years of reign. Crown Prince Naruhito, Akihito's oldest son, is first in line to the Chrysanthemum throne.
For now, Akihito keeps a busy schedule. He travels in and outside Japan, receives foreign dignitaries and attends ceremonies. But Akihito raised concerns his age and health may start limiting his ability to fulfil his duties.
A government-commissioned panel recently proposed Akihito's abdication as an exception under special legislation, to prevent future monarchs from easily following suit.
Akihito's abdication highlights the larger issues of aging royals and a shortage of successors in Japan's 2,000-year-old monarchy. Only one of Akihito's four grandchildren is male, but the current Imperial House law allows only male descendants to inherit the title. Female members are stripped of their royal status when marrying a commoner.
____
GULF STATES:
The kings, sheikhs and emirs who rule the oil-rich Arab monarchies lining the Persian Gulf typically hold onto power, at least in name, until their last breath. In most cases, there is a crown prince — it's always a man — waiting to take over, though who holds that role can change over time.
When Saudi King Abdullah died at age 90 in 2015, his then 79-year-old successor Salman had only been crown prince for two and a half years, having outlived brothers ahead of him in line. Within a matter of months, King Salman surprised many in the kingdom by replacing his designated successor with the country's powerful interior minister and installing his own young son as second-in-line to the throne, bypassing more-experienced royals.
Gulf ruling families are intensely private and oversee countries with tight limits on expression, making talk of rulers' failing health taboo.
The United Arab Emirates' president, Sheikh Khalifa bin Zayed Al Nahyan, suffered a stroke in January 2014 and has not been seen since — even though decrees continue to be issued in his name. His half-brother and presumed successor has assumed many of his public duties alongside Dubai ruler and UAE Prime Minister Sheikh Mohammed bin Rashid Al Maktoum.
Sultan Qaboos bin Said of Oman, the Mideast's longest-serving monarch, has taken numerous medical trips to Germany in recent years, but officials have not disclosed what ails him. He has no designated heir, leaving many Omanis privately nervous about who will succeed him.
____
BELGIUM:
Belgium's King Albert abdicated in July 2013 for what he said were health reasons, handing over the reins to his son, Philippe, who became the country's seventh monarch.
Albert, who turns 83 next month, has kept a low profile since, making rare public appearances. He caused a minor media uproar in late 2013 as the press claimed he was seeking money from the government because he was struggling to live on his royal pension of around a million euros a year.
The image and credibility of the royal family matters in this European Union nation, which is riven by divisions between its 6.5 million Dutch-speakers and its 4.5 million French-speakers. Three things still unite Belgium: Admiration for the king, a taste for fries and beer and a love of the national soccer team.
The image of Albert, who succeeded his brother in 1993, was tarnished when he was forced to acknowledge that he had fathered a daughter out of wedlock
____
DENMARK:
On Dec. 31, 2015, Denmark's Queen Margrethe said in her traditional News Year's speech that her French-born husband, Prince Henrik, would retire from most official duties at the age of 81.
Henrik, who became a Danish citizen when he married Margrethe in 1967, has made very few public appearances since his retirement, although he has kept his duties as patron for a series of associations.
He still takes part in the royal family's annual New Year banquet and a sails around the country with his wife in the summer. But he has also spent some time in his chateau in southwestern France.
___
Associated Press writers Adam Schreck in Dubai, Mari Yamaguchi in Tokyo, Lorne Cook in Brussels and Jan Olsen in Copenhagen, Denmark, contributed.