California hopefuls blame incumbents as farm towns struggle
HURON, Calif. (AP) — A rooster signals the start of the day as workers wearing sombreros emerge from the shadows and shuffle past boarded-up businesses in this tiny farm town. They converge on a dimly lit dirt lot outside Panaderia de Dios, a bakery sweetening the air with the aroma of Mexican cookies and bread as workers catch rides to the fields.
Little else is sweet in Huron, where jobs not displaced by automation in farming are mostly done by hand, and residents struggle to scrape by.
"As soon as you make the money, the money goes away," Martin Castro said before spending the day repeatedly bending in a field to slice cantaloupes from vines. "I don't like the life."
California may be famous for its wealth, but there is a distinctly different part of the state where poverty prevails: places like this one halfway between Los Angeles and San Francisco.
The Central Valley has long been short on resources no matter which political party is in power. Democratic and Republican candidates for Congress have blamed incumbents for doing little to create higher-paying jobs, curb homelessness, clean up blight or solve disparities in health care and access to good schools.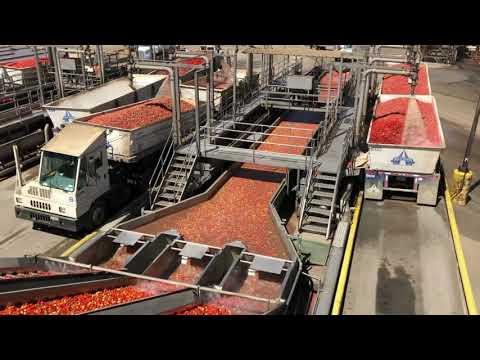 Despite a big voter-registration advantage for Democrats in the district that includes Huron, they have struggled to unseat a three-term GOP congressman. Many residents either can't vote because they're in the U.S. illegally or don't vote because they're more concerned about putting food on the table.
Despite Democrats' 16-point registration advantage, Rep. David Valadao easily won re-election with the third-lowest vote count of any member of Congress in 2016. That's despite Hillary Clinton carrying the district by 15 points.
Nearly 40 percent of Huron's 7,000 residents live below the poverty line, according to the U.S. Census Bureau. That's more than double the statewide rate of 19 percent reported last month, which is the highest in the U.S. The national average is 12.3 percent.
"I don't think enough urgency is being taken to resolve a problem that has existed way too long," Mayor Rey Leon said.
Multiple families and boarders pack rundown homes, only about a quarter of residents have high school diplomas and most lack adequate health care in an area plagued with diabetes and high asthma rates in one the nation's most polluted air basins.
Fresno businessman T.J. Cox, a Democrat, has made the lack of affordable medical care a signature issue in his run against Valadao. Cox calls Valadao a "rubberstamp Republican" for President Donald Trump who has hurt poor constituents by voting to cut Medicaid and other social programs and failing to bring money to the district.
"Appalachia, which is a very similar region, gets twice as much federal investment as the Central Valley of California," Cox said.
Valadao, who lives in nearby Hanford, comes from a dairy farming family and touts his farm credentials. He bucked his party in voting for immigration reform, which is an issue important to farmers who need laborers.
The farm that Valadao and his family own was seized and auctioned earlier this year for failure to repay $8 million in loans, court documents say. Valadao declined repeated requests to be interviewed for this story.
In Huron, nearly all residents are Latino, and Spanish is the primary language.
Picking or packing crops pays about $11 to 12.50 an hour, but jobs are seasonal and many people go months without work.
Paola Espinoza, 23, who works as a medical assistant at nearby Naval Air Station Lemoore, fears a lack of activities could lead to bad influences on her two young daughters.
There are only a few playgrounds and no arcade or movie theater, though a soccer league got started last year to keep kids from joining gangs.
"There's nothing for the kids to do," Espinoza said. "We're in the middle of nowhere."
The city is surrounded by lettuce, cotton and tomato fields, where technology has replaced the work of many hands.
"There's less need for us," said Higinio Castillo Ruiz, 73, who only works occasionally. "That's the way things are."
Large harvesters that cost $450,000 spit out 26 tons (24 metric tons) of tomatoes every 15 to 20 minutes. In a pistachio orchard, machines throttle tree trunks, sending nuts raining down.
Stuart Woolf, who runs a large family farm, said planting nut trees instead of seasonal row crops like lettuce or asparagus allows farmers to earn more per acre.
Woolf said he employs about 450 locals, noting that whatever criticisms there may be about farm work, "it's better than not having a farm job."
He pays union-scale wages at his tomato and almond processing plants, offers scholarships to employees' children and donates produce to a food bank.
"It's only getting tougher, I think, for people to live in those areas when there are fewer and fewer jobs," Woolf said. "I do think it's a forgotten part of California."
___
Associated Press photographer Marcio Jose Sanchez contributed to this story.