Two scientists have won the Nobel Prize in medicine for discoveries that enabled the creation of mRNA vaccines against COVID-19 and that could be used to develop other shots in the future.
[deltaMinutes] mins ago
Now
MORE COVERAGE
The Supreme Court seems a bit quieter than in recent years as the justices begin a new term. Major cases await, as they always do.
[deltaMinutes] mins ago
Now
In a remote, dry patch of California farm country, a battle is raging over carrots. Or rather, over the groundwater where they're growing northwest of Los Angeles.
[deltaMinutes] mins ago
Now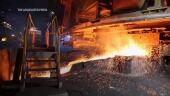 2:09
Facing increasing pressure from customers, some miners are switching to renewable energy
Some mining companies are moving to phase out use of fossil fuels in extracting and refining, partly due to pressure from downstream customers that want more sustainable supply chains. (Oct. 1) (AP video by Victoria Milko)
Facing increasing pressure from customers, some miners are switching to renewable energy
Some mining companies are moving to phase out use of fossil fuels in extracting and refining, partly due to pressure from downstream customers that want more sustainable supply chains. (Oct. 1) (AP video by Victoria Milko)
2:04
Women's voices and votes to loom large at upcoming Synod of Bishops on future of Catholic church
The Catholic Church has for centuries been dominated by men with little hope for women entering the corridors of power at the Vatican or simply saying Mass. Catholic women are hoping that a 3-week long meeting in October might be the start of some change. On October 4th, Pope Francis will open the Synod of Bishops with 464 participants including Catholic clergy and lay-people. For the first time, women and lay people will be allowed to vote. (Oct. 2) (AP Video: Sebabatso Mosamo, Paolo Lucariello, Luigi Navarra, Gianfranco Stara. Produced by Trisha Thomas)
Women's voices and votes to loom large at upcoming Synod of Bishops on future of Catholic church
The Catholic Church has for centuries been dominated by men with little hope for women entering the corridors of power at the Vatican or simply saying Mass. Catholic women are hoping that a 3-week long meeting in October might be the start of some change. On October 4th, Pope Francis will open the Synod of Bishops with 464 participants including Catholic clergy and lay-people. For the first time, women and lay people will be allowed to vote. (Oct. 2) (AP Video: Sebabatso Mosamo, Paolo Lucariello, Luigi Navarra, Gianfranco Stara. Produced by Trisha Thomas)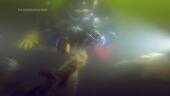 1:51
Scuba divers on ecological mission off NYC coast
A small diving group in New York City is cutting away thickets of fishing line underwater and removing other pollutants to help ease threats to oceans and marine life. (AP Video: Cedar Attanasio and Ted Shaffrey) (Sept. X)
Scuba divers on ecological mission off NYC coast
A small diving group in New York City is cutting away thickets of fishing line underwater and removing other pollutants to help ease threats to oceans and marine life. (AP Video: Cedar Attanasio and Ted Shaffrey) (Sept. X)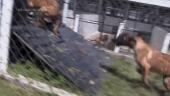 1:59
Mexico's rescue and drug-sniffing dogs start their training at the military's puppy kindergarten
In the middle of a military base outside Mexico City, an army colonel runs what he calls a kindergarten for dogs. Puppies that one day will become rescue dogs, or sniffer dogs for drugs or explosives, get their basic training at the facility. They spend their first four months at the site, before being sent to military units around the country for more specialized instruction. (Oct. 2) (AP Video/Gerardo Carrillo)
Mexico's rescue and drug-sniffing dogs start their training at the military's puppy kindergarten
In the middle of a military base outside Mexico City, an army colonel runs what he calls a kindergarten for dogs. Puppies that one day will become rescue dogs, or sniffer dogs for drugs or explosives, get their basic training at the facility. They spend their first four months at the site, before being sent to military units around the country for more specialized instruction. (Oct. 2) (AP Video/Gerardo Carrillo)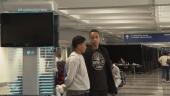 1:59
Chicago struggles to house asylum-seekers
As Chicago has struggled to house asylum-seekers arriving in the city, it's been using a bus center at O'Hare International Airport. The use of airports to house migrants has been rejected elsewhere and it highlights what's been a haphazard response to the crisis. (Oct.1) (AP video: Melissa Winder)
Chicago struggles to house asylum-seekers
As Chicago has struggled to house asylum-seekers arriving in the city, it's been using a bus center at O'Hare International Airport. The use of airports to house migrants has been rejected elsewhere and it highlights what's been a haphazard response to the crisis. (Oct.1) (AP video: Melissa Winder)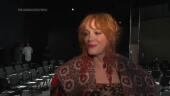 1:42
Christina Hendricks and Pamela Anderson among stars at Westwood show
Christina Hendricks and Pamela Anderson were among the stars that showed up for Andreas Kronthaler's show for Vivienne Westwood at Paris Fashion Week. (Oct. 1)
Christina Hendricks and Pamela Anderson among stars at Westwood show
Christina Hendricks and Pamela Anderson were among the stars that showed up for Andreas Kronthaler's show for Vivienne Westwood at Paris Fashion Week. (Oct. 1)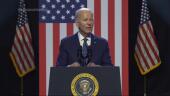 2:22
Biden warns Trump's MAGA 'extremist movement' is a threat to democracy
President Joe Biden issued a dire warning Thursday that Donald Trump and his "extremist" MAGA allies are a serious threat to American democracy. And he urged Americans not to 'sit on the sidelines,' but instead engage to save the nation. (Sept. 28)
Biden warns Trump's MAGA 'extremist movement' is a threat to democracy
President Joe Biden issued a dire warning Thursday that Donald Trump and his "extremist" MAGA allies are a serious threat to American democracy. And he urged Americans not to 'sit on the sidelines,' but instead engage to save the nation. (Sept. 28)
1:47
Minimum wage up to $20 for fast food workers in CA
A new law in California will raise the minimum wage for fast food workers to $20 per hour next year. (Sept.28) (AP Video shot by Terry Chea/ Damian Dovarganes) (AP Production by Ao Gao)
Minimum wage up to $20 for fast food workers in CA
A new law in California will raise the minimum wage for fast food workers to $20 per hour next year. (Sept.28) (AP Video shot by Terry Chea/ Damian Dovarganes) (AP Production by Ao Gao)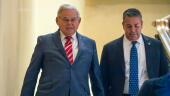 1:09
Menendez tells Senate colleagues he won't resign due to bribery charges
New Jersey Sen. Robert Menendez remained defiant in the face of federal bribery charges, telling a room full of his Senate Democratic colleagues during a closed-door caucus luncheon that he has no plans to resign. (September 28)
Menendez tells Senate colleagues he won't resign due to bribery charges
New Jersey Sen. Robert Menendez remained defiant in the face of federal bribery charges, telling a room full of his Senate Democratic colleagues during a closed-door caucus luncheon that he has no plans to resign. (September 28)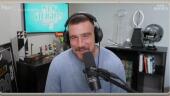 2:08
Travis Kelce notes Taylor Swift's 'bold' appearance at Chiefs game, mum about any relationship
Kansas City tight end Travis Kelce calls Taylor Swift's appearance at the Chiefs' victory over the Chicago Bears "pretty bold" but wants to remain private about any relationship with the superstar singer. (Sept. 27)
Travis Kelce notes Taylor Swift's 'bold' appearance at Chiefs game, mum about any relationship
Kansas City tight end Travis Kelce calls Taylor Swift's appearance at the Chiefs' victory over the Chicago Bears "pretty bold" but wants to remain private about any relationship with the superstar singer. (Sept. 27)